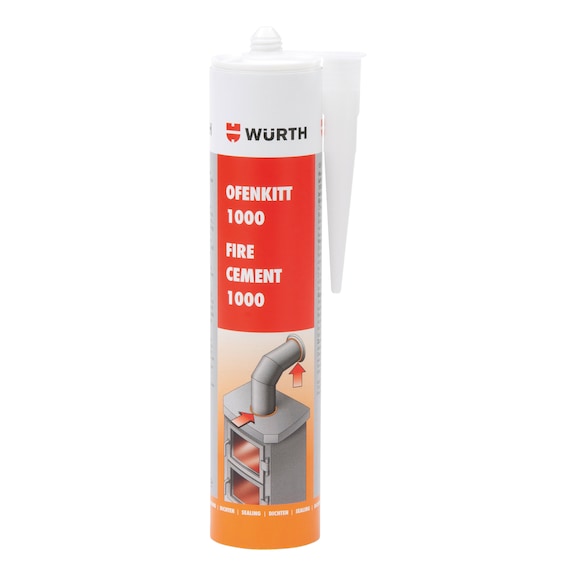 Sealing compound, Fire cement 1000
PUTY-HTEMP-OVENCEMENT1000-310ML
Prices for customers after login
Exclusively for trade customers
Register now and access more than 125,000 products
Call customer service: 1800 102 5061
Solvent-free 1-component sealing compound with optimum heat resistance, high degree of strength and excellent adhesion to metal surfaces
No formation of a sediment
The ingredients do NOT separate from one another during storage
Ready for use
Not necessary to stir the material beforehand, as required e.g. with canned products
Can be pressed out easily with a cartridge gun
Frost-proof
Storage temperature below 0°C (approx. -5°C) possible
Silicone-free
Notice
The putty is not elastic once it has cured.
The usage instructions are recommendations based on the tests we have conducted and our experience; carry out your own tests before each application. Due to the large number of applications and storage and processing conditions, we do not assume any liability for a specific application result. Insofar as our free customer service provides technical information or acts as an advisory service, no responsibility is assumed by this service except where the advice or information given falls within the scope of our specified, contractually agreed service or the advisor was acting deliberately. We guarantee consistent quality of our products. We reserve the right to make technical changes and further develop products.
Product information
Würth Catalogue(X)
Catalogue page as PDF 1
Certificates/ Documents

Application area
Boiler putty 1000 is used in the heating equipment sector, particularly for sealing boilers, ovens, cookers, chimneys, burner chamber fittings, smoke gas pipes and a wide range of equipment and apparatus in the high-temperature sector up to 1000°C, but it can also be used in place of sealing cords in boiler system doors following an annual inspection and/or after cleaning.
Instructions
The surfaces must be clean, dry, free from grease and unpolished. For more information, please refer to the technical data sheet.
Chemical basis

Water glass luting with mineral fillers

Contents

310 ml

Container

Cartridge

Max. temperature resistance

1000 °C

Density

2.21 g/cm³

Colour

Cast grey

Recoatable/Can be painted over

Yes

Smell/fragrance

Neutral

Viscosity/consistency

Pasty

Long-term elasticity

Virtually no elasticity

Shrinkage

Minimal

Curing time

2 d

Full curing speed

1 mm/d

Water-soluble

Not readily soluble in water

Min./max. temperature resistance

-5 to 1000 °C

Min./max. processing temperature

5 to 30 °C

Resistance against

Fats
Household cleaning products
Oil
Flue gases and their condensates

Shelf life from production/conditions

12 Month / in sealed cartridge, max. 30°C
Select RAL-colour code
!! NOTE: On-screen visualisation of the colour differs from real colour shade!!
Art.-no.

Plus disposal costs -,-- per selected packing unit
Cust. Mat. No.
Certificates/ Documents