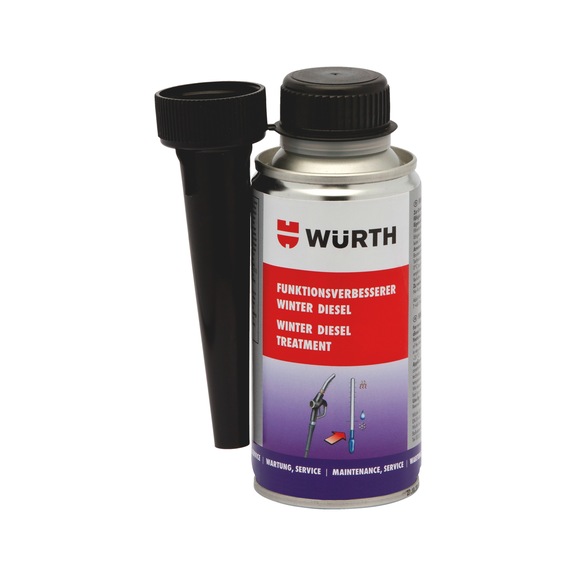 Diesel additive winter diesel treatment
ADD-DISL-ADD-WINTER-DISL-150ML
Prices for customers after login
Exclusively for trade customers
Register now and access more than 125,000 products
Call customer service: 1800 102 5061
To improve the filterability and the cloud point of diesel fuel
Prevents slushiness
Prevents the fuel line and filter from becoming clogged


The diesel engine also works at low temperatures
Improves filtration ability and the pour point of the diesel fuel


Ensures winter operation in cold conditions


Compatible with all conventional diesel fuels, however ineffective with pure organic diesel


Improvement of up to -10°C at max. -31°C depending on the fuel quality
Notice
The additive must be added before the first flocculation; any flocculation that has already occurred cannot be dissolved by the product. Ideally, the additive should be at room temperature and the diesel fuel being treated should not be below 0°C. The additive should ideally be added just before the fuelling process.
The usage instructions are recommendations based on the tests we have conducted and our experience; carry out your own tests before each application. Due to the large number of applications and storage and processing conditions, we do not assume any liability for a specific application result. Insofar as our free customer service provides technical information or acts as an advisory service, no responsibility is assumed by this service except where the advice or information given falls within the scope of our specified, contractually agreed service or the advisor was acting deliberately. We guarantee consistent quality of our products. We reserve the right to make technical changes and further develop products.
Product information
Würth Catalogue(X)
Catalogue page as PDF 1
Certificates/ Documents

Application area
For all passenger car and truck diesel engines, buses, construction machinery, including common rail and pump/nozzle systems.
Instructions
Add the contents of the can to the tank at temperatures around 0°C to produce the optimum effect.
Add 1000 ml to the fuel in the ratio of 1:1000.


Add 300ml to achieve a concentration of 1:500 in the fuel.


150 ml is sufficient for max. 70 litres of fuel.
During the colder seasons, we recommend prolonged use.
| | |
| --- | --- |
| Contents | 150 ml |
| Colour | Transparent, translucent, opaque |
| Smell/fragrance | Characteristic |
| Chemical basis | Combination of additives |
| Shelf life from production | 60 Month |
| Density | 0.813 g/cm³ |
| Density conditions | at 20°C |
| Min. flashing point | 63 °C |
Art.-no.
Plus disposal costs -,-- per selected packing unit
Cust. Mat. No.
Certificates/ Documents