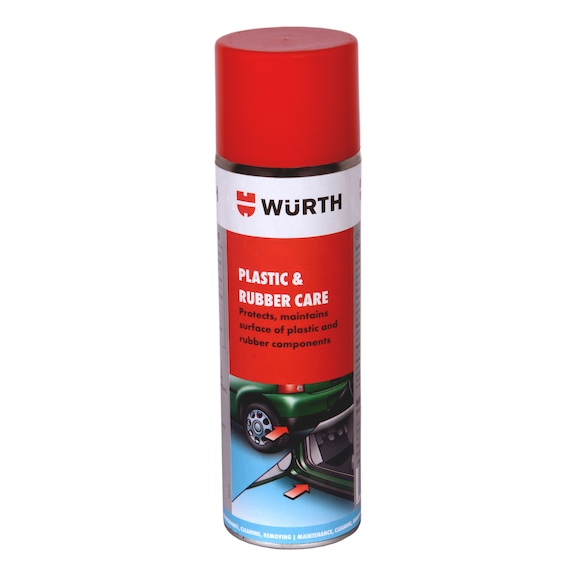 Plastic and rubber care
SILSPR-500ML
Prices for customers after login
Exclusively for trade customers
Register now and access more than 125,000 products
Call customer service: 1800 102 5061
Protects, maintains surface of plastic and rubber components
Protects, maintains, lubricates & insulates plastic, rubber & metal components can also be used as mould release agent.
These instructions are only recommendations, which are based on our experience, preliminary testing advised before use.
Application area
Suitable For:
Imparts a high-gloss finish to plastic components (e.g. roofs etc.) & prevents enbrittlement.


Rubber components (e.g. door & bonnet or hood seals, rubber buffers, side molding, water hoses, tires, etc.) are maintained, do not become brittle, do not freeze up and do not stick fast.


Impregnates folding roofs and covers.


Has antistatic properties and thus does not attract dust.


Protects electric contacts against damp.


Eliminates annoying rattles and squeaks, particularly where different materials rub (e.g. metal / plastic) servesas fitting aid, e.g. for those connections.
Instructions
Spray on clean surfaces from a distance of 20-30 cm and smooth out with a clean, soft cloth.


Cleaning and care of plastic parts, care product for door seals, especially in winter.


Lubrication of plastic rails.
| | |
| --- | --- |
| Contents | 500 ml |
| Container | Aerosol can |
| Chemical basis | Synthetic oil with a multifunction additive combination |
| Density | 1 g/cm³ |
| Shelf life from production | 12 Month |
Art.-no.
Plus disposal costs -,-- per
Cust. Mat. No.