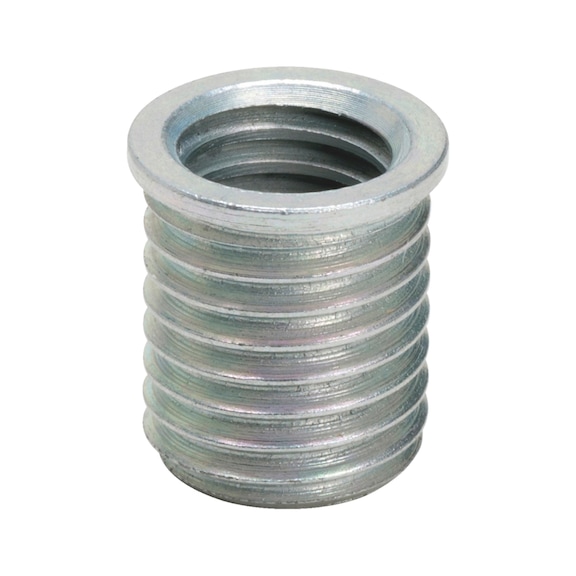 TIME-SERT® threaded bushing
Insert nut Time-Sert
NUT-INRT-M12X1,75X16,2
TIME-SERT
Prices for customers after login
Exclusively for trade customers
Register now and access more than 125,000 products
Call customer service: 1800 102 5061
For repairing defective threads.
Safe working, including on weak walls
Very thin-walled owing to synchronously running threads.
Can be used in thin-walled materials
Reliable repairs where only a few thread turns are available.
Impermeable to media
Pressure application with the workpiece makes the thread pressure-sealed for water, oil, other liquids and compressed gases.
Self-locking
Automatic shaping of not yet fully formed threads when screwing in. The nut is guaranteed not to twist out, even without bonding.
Accurate positioning in the workpiece
The nuts have a collar, no additional securing in the workpiece is necessary
Notice
Tear-out strength
Tear-out strength may vary subject to application (edge areas etc.) and material. As a result, no general information can be provided on this topic. Tests in the Würth laboratory have shown that the Time-Sert thread repairs are equivalent to the original threads in most cases.
Steel nuts
Material: 9SMn/Pb28K DIN1651/668
Coating: galvanised, passivated.
Würth Catalogue(X)
Catalogue page as PDF 1
Certificates/ Documents

| | |
| --- | --- |
| Thread type x nominal diameter x pitch (My) | M12 x 1.75 |
| Length (L) | 16.2 mm |
| Design | Metric nominal thread |
| Surface | Zinc plated |
| Material | Steel |
Art.-no.

Plus disposal costs -,-- per selected packing unit
Cust. Mat. No.
Certificates/ Documents