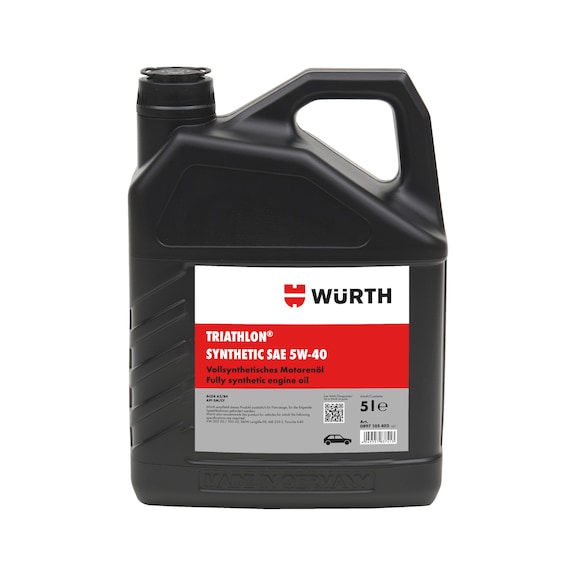 Engine oil TRIATHLON® Synthetic 5W-40
Engine oil, TRIATHLON Synthetic 5W-40
ENGOIL-SYNTHETIC-5W40-5LTR
TRIATHLON
Prices for customers after login
Exclusively for trade customers
Register now and access more than 125,000 products
Call customer service: 1800 102 5061
Smooth-running engine oil for optimum engine performance
Excellent protection against wear for a longer engine service life
Safes fuel and reduces emissions
Excellent protection against wear and excellent cold behaviour
Fully synthetic
TRIATHLON engine oils are produced and packaged in compliance with the most stringent quality specifications in accordance with DIN EN ISO 9001
High level of product safety


Comprehensive manufacturer approvals
Only high-quality first raffinates and raw materials are used for TRIATHLON oils
Fulfils key specifications of automotive manufacturers
Notice
Observe the operating instructions of the vehicle and engine manufacturer for standard and extended oil change intervals.
Tested for turbocharging and catalytic converter
The usage instructions are recommendations based on the tests we have conducted and are based on our experience; carry out your own tests before each application. We do not assume any liability for a specific application result due to the large number of applications and storage and processing conditions. Insofar as our free customer service provides technical information or acts as an advisory service, no responsibility is assumed by this service except where the advice or information given falls within the scope of our specified, contractually agreed service or the advisor was acting deliberately. We guarantee consistent quality of our products. We reserve the right to make technical changes and further develop products.
Product information
Würth Catalogue(X)
Catalogue page as PDF 1
Certificates/ Documents

Application area
Year-round oil for modern petrol and diesel engines. For passenger cars
Contents

5 l

Type of oil

Fully synthetic

Viscosity grade

5W-40

Approved for engine oils

API SM
API CF
ACEA A3-04
ACEA B4-04

Recommended applications for engine oils

MB 229.3
VW 502 00
VW 505 00
BMW Longlife-98
Porsche A40

Shelf life from production

60 Month

Density

0.85 g/cm³

Min. flashing point

222 °C

Pour point

-45 °C
Select RAL-colour code
!! NOTE: On-screen visualisation of the colour differs from real colour shade!!
Art.-no.

Plus disposal costs -,-- per selected packing unit
Cust. Mat. No.
Certificates/ Documents